In Flanders Fields the poppies blow
Between the crosses, row on row,
That mark our place, and in the sky,
The larks, still bravely singing, fly,
Scarce heard amid the guns below.
(John McCrae)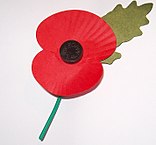 Westford & District Pipes and Drums were honored to take part in numerous Memorial Day ceremonies this past week.  Starting with the Lowell Cemetery parade last Sunday and at Page Hilltop Elementary School Friday May 24th, Westford parade May 26th and finished today in Winchester.    We remember all of those who gave their all.