2016 NH Highland Games recap
Highland games 2016 Loon Mountain started off with cool temperatures and low lying fog which would quickly disperse as the sun would rise creating a comfortable 80 degrees.  Open ceremonies as usual was the hike up the hill to wave 4 but the Westford FF Pipes and Drums would proudly perform with Ralph on side making his debut.  PM Tustin, PS Parsons and Pipers Kinney & Brown rounding out our section.  This year's opening was improved making it more enjoyable as the political speeches were done before our arrival.  This meant less time standing around on the tarmac baking in the sun.  In typical fashion Mass bands would do the countermarch to Scotland the Brave then ending with Amazing grace.  Mass bands then would be dismissed and we once again marched off with great precision.
An enjoyable lunch at our tent would be had with great libation and relaxing comradeship.  Other band members not able to march in mass bands joined our wonderful jollification.  The day would provide opportunities for shopping and making connections and re-establishing friendships.  PM Tustin was hard at work challenging vendors to see what they had to offer our band, looking forward to hearing that report.
The day would end with a wonderful band dinner at the Common Man in Ashland NH.  Excellent meal and great conversation would round off a beautiful day.  The band dinner was a great way to say thank you for everyone's hard work and the support we get from our significant others.
Sunday would start off with damp skies but would make way to cloud cover and sometimes the sun would almost make its way through.  Humidity would add to a soupy feeling and warm temperatures.  PM Tustin competition would be on Sunday and we all hoped he performed well.
Our presence, performance and comradeship is what we strive for and I believe this year we have met those challenges as we continue to improve.  I for one am very proud to be part of this group.  May we continue to work hard to be the best we can be.
Respectfully,
PS, Parsons
Sec/Treas.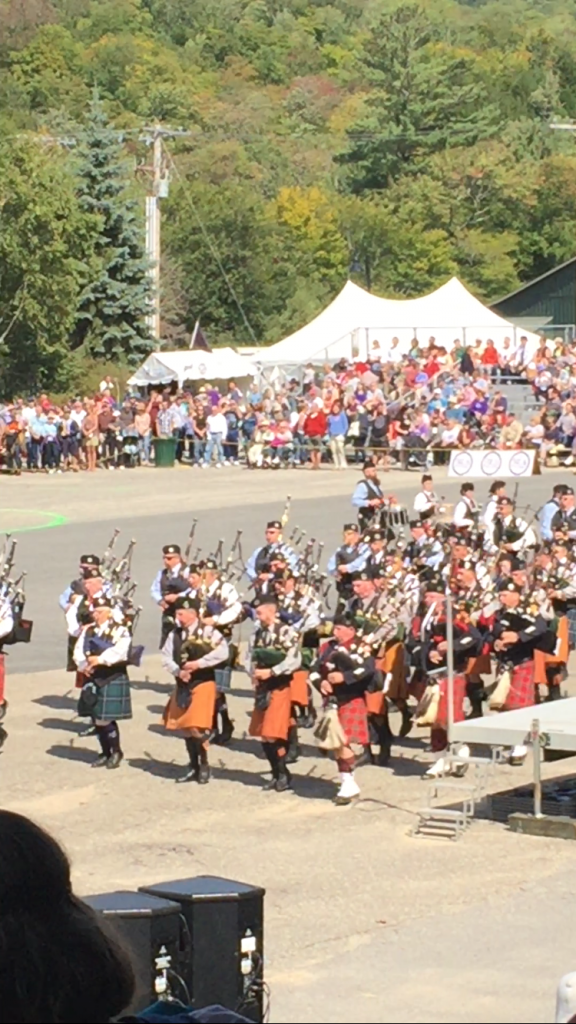 Addendum from PM Tustin
The warm damp humid morning caused a bit of a challenge for not only myself but a few other competitors as well. Despite some of the challenges I placed 5th in the Piob contest and 6th in the 2/4.  As always each competition is an opportunity to learn and improve and this performance was no different.  The 2016 season is in the books, looking forward to 2017 and continued improvement.
So would you like to join this fine group.  For details click on the Join us banner at the right.  The band is always looking for new or experienced pipers and drummers to be a part of our group.